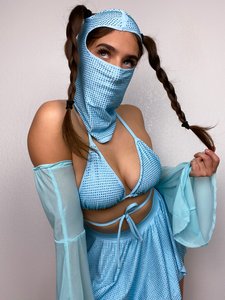 Please read over my shipping and refund policies before making your purchase. 
🖤Mask Only
🖤Will ship 2-3 weeks after purchased 
✨Glam Guarantee: The mask is given a shake test during quality check to make sure all rhinestones are securely on before being shipped. Therefore, fall out during wear is not common but can occur in some circumstances.

*This can be fixed at no charge to you, just cover the shipping of the item! I'll cover shipping back to you 💓 Email info@ravetildawn.com for assistance. 
*If supplies are available